Description
ETHEREAL – Sequentia Legenda (2017)
This opus is an immersive and emotional experience, a tribute to the legendary Moog modular.
"ETHEREAL is an album full of emotions, which are present through the sequences and the sonic texture. The Moog Modular brings a particular color to the sound palette of this new opus. I wanted to achieve a result in harmony with my vision of the Berlin school: an extension of this musical movement" – Laurent Schieber
Music composed, mixed, performed, mastered and produced by Sequentia Legenda (Laurent Schieber).
Artwork by Sequentia Legenda.
Laurent Schieber: Keyboards, Arturia V collection & more
* Tommy Betzler: Roland Drums, Paiste Cymbals & Gongs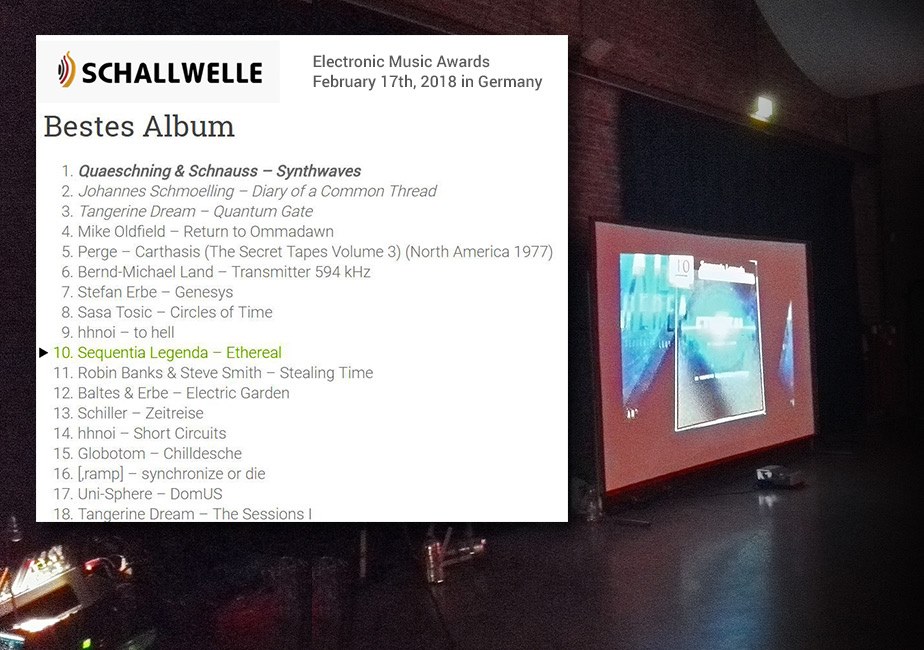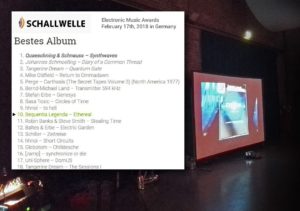 This album has been nominated for the Schallwelle Elextronic Music Awards 2018 in Dortmund, Germany, in the Top ten in the "Best Albums" category alongside Tangerine Dream, Johannes Schmoelling and Mike Oldfield.
---
In this first title, the Moog Modular will generate a large sequence bringing in its wake seraphic voices and ethereal choirs. Through this musical poem, the listener will be invited to live an immersive experience.
Second track, two Moog Modular synthesizers that complement each other to create two floating sequences around the second moon. Two musicians working together for the second time: Sequentia Legenda and * Tommy Betzler. A journey through time and space around the second moon.
The third track of this album begins with the slow progression of a cosmic sound texture, allowing the sequential lines of both Moog Modular synthesizers develop. In this sound canvas in perpetual evolution, the pads and ethereal choirs, backed by sonic percussions, invite the listener for an ascent to the stars.
Extraits
Tracklist
Stratums of Seraphic Voices  [26:28]
Around the Second Moon  [22:45]
Elevation  [20:36]
Durée totale : 69:49
Chroniques
"A true lover of Klaus Schulze music, Sequentia Legenda goes beyond in his quest to reproduce the essence of retro Berlin School with this exquisite Ethereal. A must!"
"Ethereal est un excellent voyage dans le temps de l'analogue. […] un must pour les fans de Klaus Schulze, périodes 76-77."
Sylvain Lupari (10 août 2017) – http://synthsequences.blogspot.fr/2017/08/sequentia-legenda-ethereal-2017.html